Affiliate links and ads may be sprinkled throughout the free content you see below. If you purchase from one of these links I may receive a small commission, at no extra cost to you, but helping me cover the costs of Lauren on Location. Please see my
full disclosure policy.
This San Sebastian Pintxos tour was updated after a trip in July 2020, following the worldwide COVID-19 Pandemic. Unfortunately, some of my favorite bars and eateries, which were originally listed in this post, have since closed permanently. ? Still, the following San Sebastian pintxos guide around Casco Viejo is sure to be one for the books!
After several trips to Spain's northern jewel, San Sebastián, it's safe to say I've fallen in love. I could visit this picturesque coastal city in the Basque Country over and over, without ever getting bored.
If I've ever visited a city that I would feel comfortable labeling the "capital of my taste bud euphoria," it would be San Sebastián. I'll even go as far as to say that this city easily climbed its way to the very top of my gastronomic list thus far. [And that's saying a lot after eating my way through Mexico City's street stalls, Portland, Oregon's food trucks and Rome's doughy, cheesy Trastevere.]
In the Spanish Basque country, food is more than just an ailment. Similar to the rest of Spain, much of Basque culture revolves around their eating. It is an art form, a social affair, a complete sensory experience, and above all else, a way of life.
About San Sebastián's Culinary Culture & Basque Cuisine
While the Basque Country may have a dense concentration of Michelin Star Restaurants, in my opinion, their paramount contribution to Spanish cuisine is the pintxo [pronounced "pincho"]. A relative to Spain's infamous tapas, pintxos are small bite-sized goodies typically served at the bar alongside a pint of beer or glass of wine. Unique from the Spanish tapa, the Basque pintxo (which is Spanish for "spike") is commonly speared with a toothpick or a wooden skewer.
Traditionally in the Basque Country, pintxos were served as a small helping of typical Spanish foods, such as "jamón serrano" [cured ham] or "tortilla de patatas" [potato and egg omelette], atop a small piece of toast. They were served alongside drinks in order to attempt to sober up the bar's patrons so that they could continue their night, and well, keep on drinking without getting too rowdy or sloppy.
Today, these scrumptious little finger foods have evolved from the simple Spanish toasts they once were and are now considered a delicacy in the country of Spain, as well as many other metropolitan cities around the world.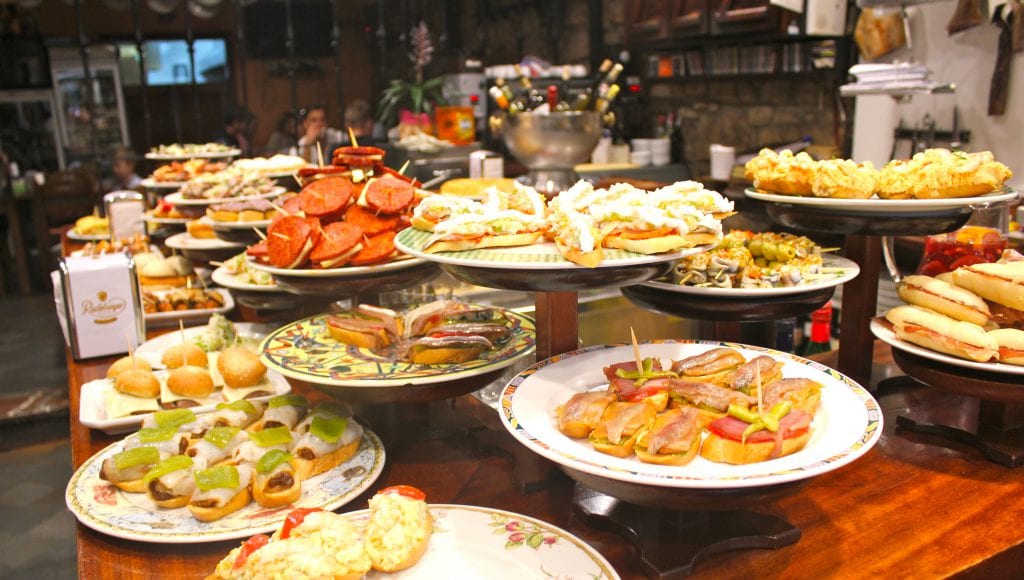 "Txikiteo" or "pintxo's hopping" has become the norm in San Sebastían. Day and night you'll find Basque locals and tourists roaming the streets from bar to bar, sampling different wines, and indulging in gourmet goodies. Parte Vieja or Old Town is a popular place for the pintxos crawl as its narrow stone streets are lined with pintxo bars and restaurants that overflow with colorful offerings and enticing aromas.
*Note: You may have already picked this up, but in Euskera, the language of the Basque Country, "tx" is pronounced "ch," which can be seen above and in the pintxos pronunciation as "pinchos."
Okay, okay. I've got your attention. You're ready to make the trip north and indulge in the best pintxos San Sebastian has to offer. But where do you start?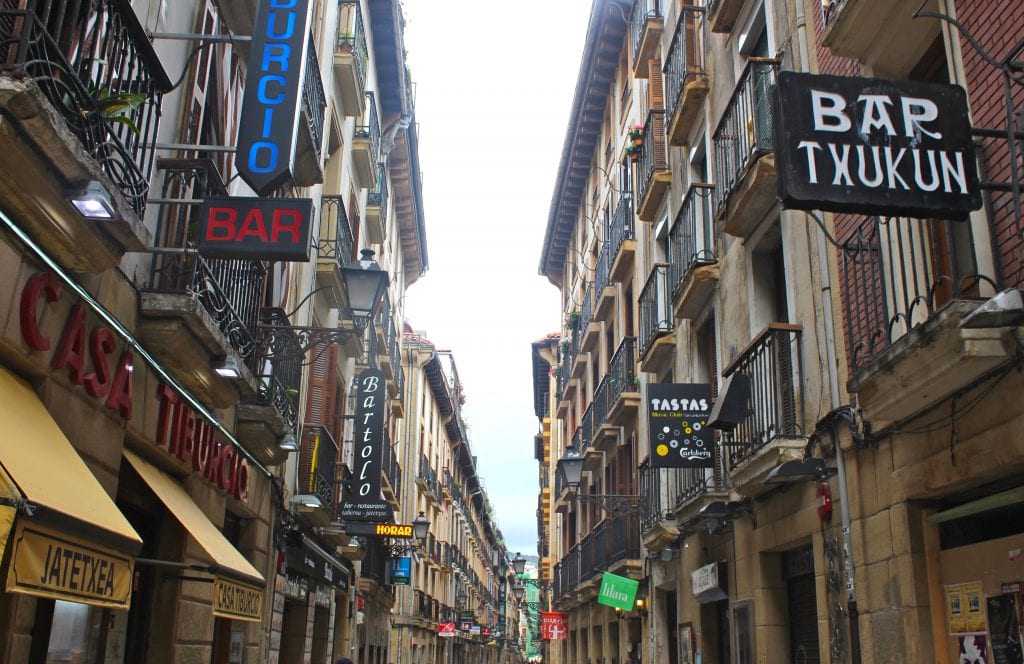 Pre-Pintxos Tour Notes & Tips: What to know before you go
#1 – Go hungry and wear your stretchy pants! Every time I go to San Sebastian, I prepare all day long. I usually eat a very light breakfast and try my best to hit the streets with an empty stomach! If conquering this whole list at once seems like too much, because it very well might be, go for lunch, take a break and return for dinner!
#2 – Bring cash. Most places on this list now accept debit and credit cards, but occasionally you'll come across one that is cash only. It can't hurt to have some cash on hand to avoid a last-minute run to the nearest ATM. [I speak from experience.]
#3 – Sharing is caring! While pintxos may seem to be very small portions, they are deceivingly filling. Start small and order only a few in each establishment. If you're with a group, share with friends to sample all the different plates and tastes.
#4 – Check the hours of each eatery. As is the typical fashion here in Spain, most restaurants will open for breakfast or lunch and then close between the hours of lunch and dinner. This means that most eateries on this list will be closed between 4:30 PM and 7:00-7:30 PM, but be sure to double-check as each has differing schedules. Most are closed on Mondays.
#5 – Be ready to brave the crowds. During prime eating hours, most of the restaurants on this list will be fairly crowded, but this is a good sign! In San Sebastián if a restaurant is crowded, you can be sure that it's the place to be! Still, if you'd rather avoid the claustrophobia, try visiting the restaurants on the earlier or later side of the rush.
#6 – Ask for recommendations! Don't be shy. Ask your bartender, waiter, or waitress for their guidance when ordering- they really know their stuff! Most bars have a specialty and feature local, in-season ingredients, and it would be a sin to miss out on any new plates or specials.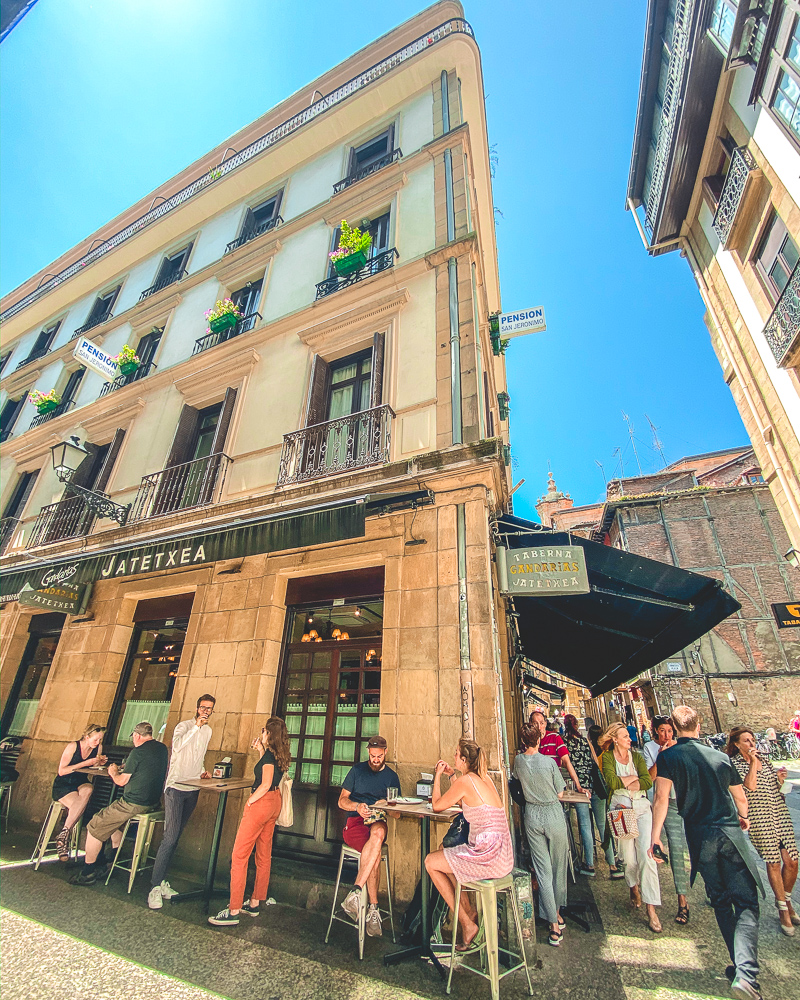 FINALLY! You're now ready for my Self-Guided San Sebastián Pintxos Tour
The map below shows the locations of all the San Sebastian pintxos bars and eateries that I will mention in this post. For purposes of the "pintxos tour" you'll find the locations in GREEN. The other eateries that I mention at the end of this guide are in PURPLE.
*Note for directions: "Kalea" or in Spanish, "Calle" means street. So, for example "Fermin Calbeton Kalea" would be Fermin Calbeton Street.
*While Google and Google Maps still show them as open, both Zeruko & Aatari Gastroteka have permanently closed. These two establishments were listed in my first pintxos tour, but have now been removed from this guide. Still, our hotel suggested Zeruko to us for pintxos, and it seems to have only closed recently. Upon asking a few locals, they informed me they will not be reopening.
1st stop: Ganbara
Location: San Jeronimo, 21

Closed on Mondays. Tuesday-Saturday: 12–3:15 PM, 7–11 PM. Sundays 7-11.
Ganbara is a small, traditional-style Basque pintxos bar located smack-dab in the middle of Parte Vieja. This warm and welcoming tavern is a must-stop for all you fungi fans and croissant enthusiasts. Stand upstairs along the bar in awe of the colossal wild mushrooms and watch the man behind the counter hand-roll fresh gooey croissants. If you're lucky you can catch one right out of the oven and melt in its warm flakey, buttery goodness.
My Pintxo Order Recommendations:
Croissants– served with ham or salmon
Sautéed mixed Mushrooms
Fried white asparagus– only available in season. Crisp and lightly battered tempura style.
Softshell crab pastry


2nd Stop: Borda Berri
Location: Fermin Calbeton, 12
Closed on Mondays & Tuesdays. Wednesday-Sat 12:30–3:30 PM, 7:30–10:30 PM. Sundays 12:30–3:30 PM.
**CASH ONLY!
A newcomer to Borda Berri may be thrown off at the sight of an empty bar (no pintxos in sight!) and a limited chalkboard menu. Unlike most popular bars in San Sebastian, at Borda Berri there is no extravagant display and only a shortlist of pintxos to choose from. But don't let that discourage you, because nothing on that small chalkboard menu will disappoint. In fact, I'd just go ahead and order one of each. The food may not be fancy, but it is fairly priced and expertly prepared. Trust me, your taste buds, and your wallet, will thank you.
My Pintxo Order Recommendations:
"Kebab de Costilla de cerdo"– Pork rib with kebab sauce- a meat lover's must
"Carrillera de Ternera al vino tinto" – slow-cooked beef cheek in red wine sauce.
"Rissotto de puntalette" – Mushroom Risotto
"Oreja de cerdo"– pig's ear (if you're brave enough)
Seasonal Fish– whatever pintxo is featuring the fresh fish in season!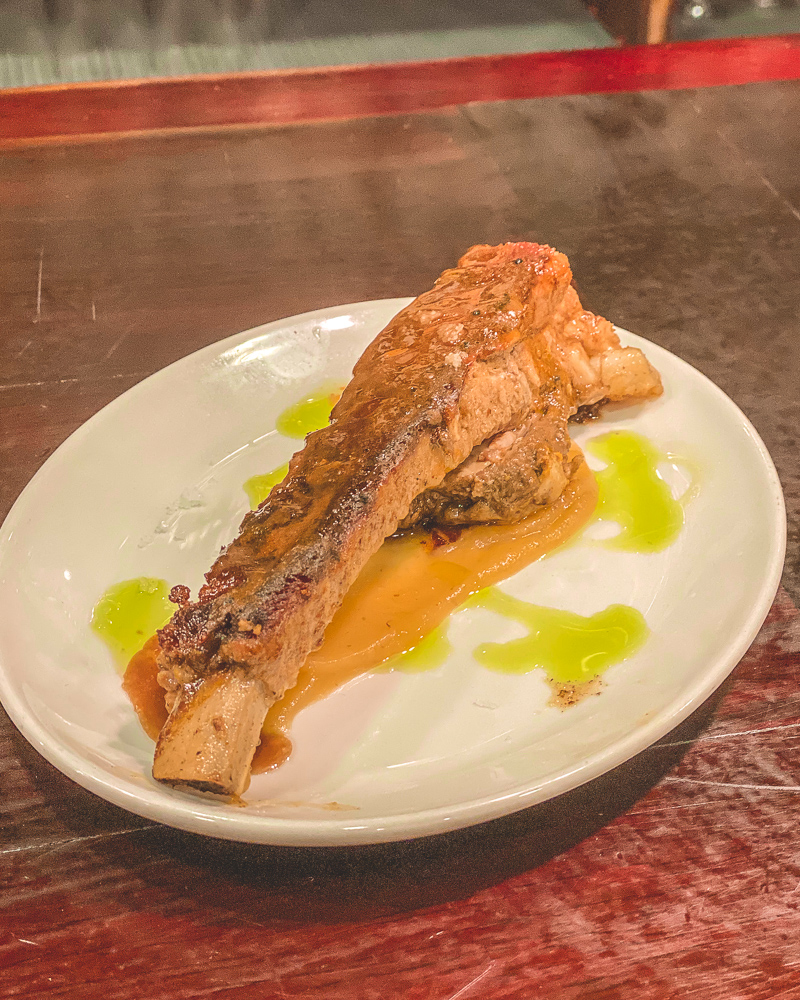 3rd Stop: Bar Txepetxa
Location: Arrandegi Kalea, 5
Closed on Mondays. Tuesdays 7–11 PM. Wednesday-Saturday 12–3 PM, 7–11 PM. Sundays 12–3 PM.
Anchovy fanatics get ready to drool. Entering Txepetxa, you'll feel like a kid in a candy store. Even if you're not a huge anchovy fan [like me!??‍♀️ ], give this place a shot, it just may surprise you! The service is fast and friendly, and you'll get a great bang (and bite!) for your buck.
Txepetxa specializes in all things anchovy, featuring this small salted fish atop creative toasts with a variety of inventive flavors. In Spain, this specific type of vinegar-cured white anchovies are known as "boquerones," and they're not too fishy, oily, or mushy. I have to admit, I was a bit apprehensive at first, but after one bite I was hooked and ordered 3 more!
My Anchovy Pintxo Order Recommendations:
"Crema Centollo" – anchovy with a creamy crab sauce.
"Foie y Compota Manzana" – anchovy with foie gras paté and apple purée.
"Huevas Erizo Mar" – anchovy with Sea Urchin Eggs
"Arandanos" – anchovy with blueberries.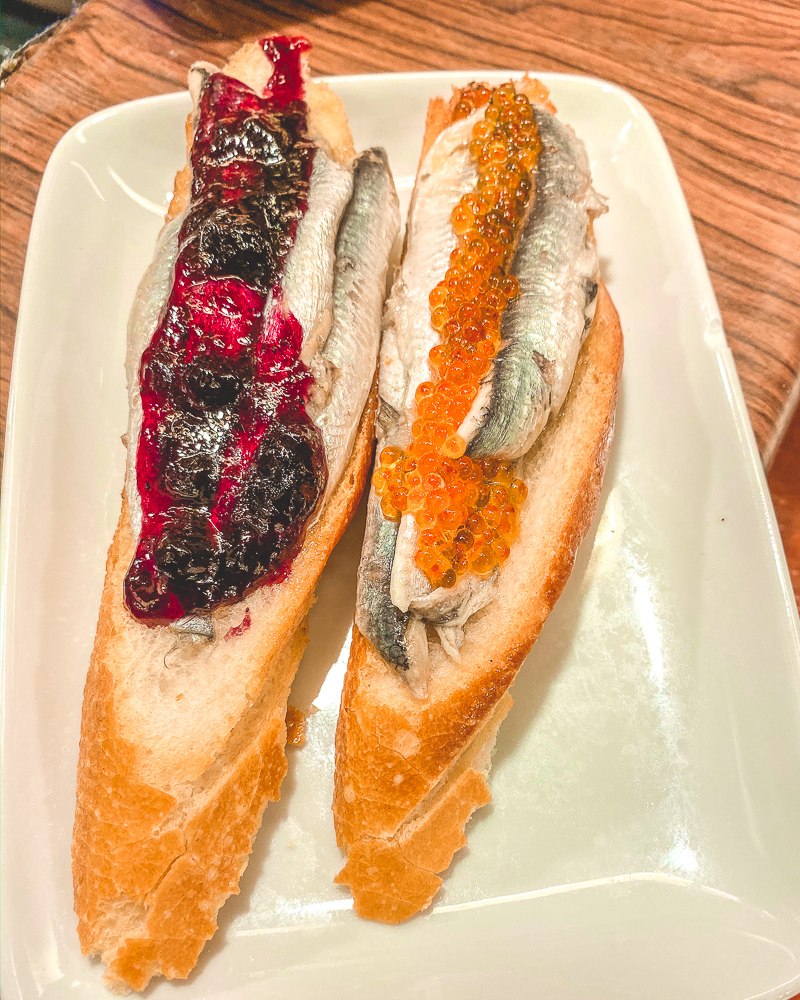 4th stop: La Cuchara de San Telmo
Location: Santa Korda Kalea, 4
Closed on Mondays. Tuesdays-Sundays 12–3:30 PM, 7:30–11 PM.
Hidden on a side street off of the well-known pintxos strip "Agosto 31," is La Cuchara de San Telmo. This long, narrow bar may be off the beaten path, but don't let that fool you- it's always crowded. Once you taste their food, you'll understand why. The chefs stick to a pretty traditional menu, perfecting what they know and highlighting the natural flavors in each individual bite. Expect a bit of a wait, as every dish is fresh and made to order. Also, don't be shy making your way to the bar. Rubbing elbows with other pintxos patrons is all part of genuine local experience!
My Pintxo Order Recommendations:
"Carrilleras de tenera al vino tinto"– beef cheek in a red wine sauce
"Ravioli de Margret de pato"– duck sirloin ravioli with leek and lemongrass
Foie Gras
"Bonito Rojo"– Red seared tuna with ponzu sauce and sesame seeds
"Pulpo a la plancha"– grilled octopus [in my opinion the best octopus san Sebastian!]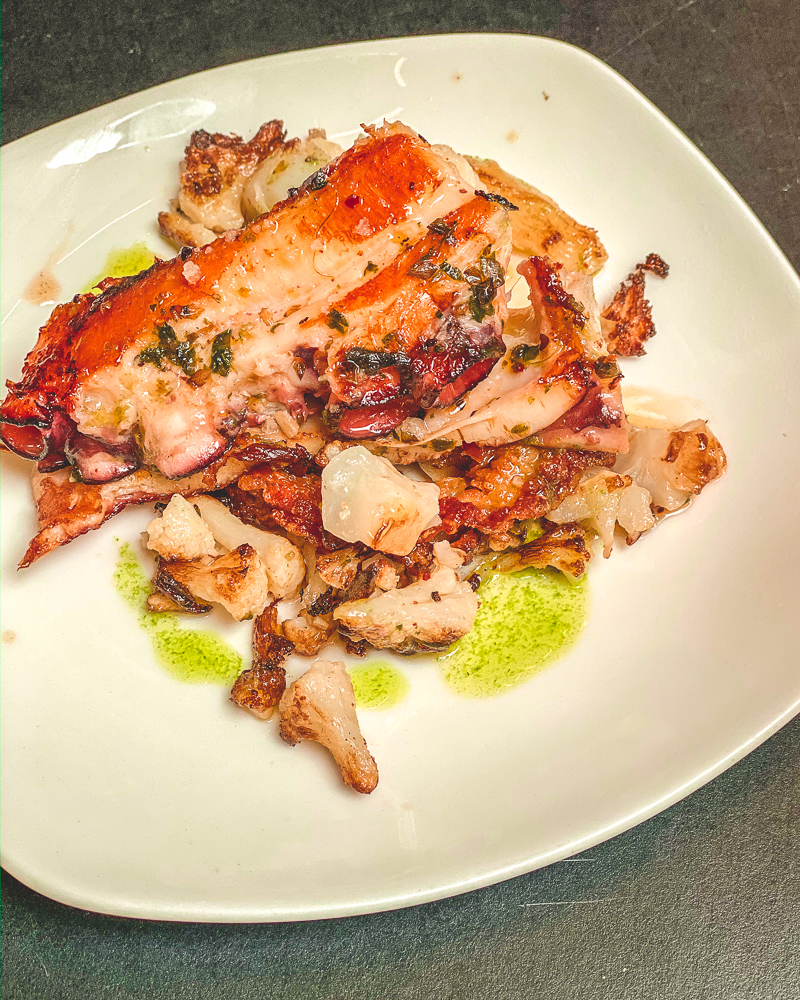 5th stop: Gandarias
Location: 31 de Agosto Kalea, 23
Monday-Sunday 11 AM–12 AM.
As one of the bars open a bit later into the night in San Sebastian's old town, Gandarias has become a popular destination for after pintxos cocktails. This makes it the ideal spot to end your pintxos tour.
Gandarias is also a bit more upscale than the previous bars you will have visited with a bustling ambiance and "contemporary chic" vibe. Grab your drinks, and another round of pintxos (if you dare) and head outdoors to find a table for some magnificent people watching.
**Gandarias has vegetarian and gluten-free options, but they are known for their "solomillo" or steak. 
My Pintxo Order Recommendations:
"Pintxo de Solomillo" – steak pintxo.
"Brocheta de gambas" – Shrimp skewer.
"Brocheta de txuleta" – steak skewer.
"Chuletón de buey"– thick-cut, bone-in, rib steak sold by the kg. Keep in mind, this is not a pintxo, but rather a large piece of meat that you can share, or go back and order as a full meal.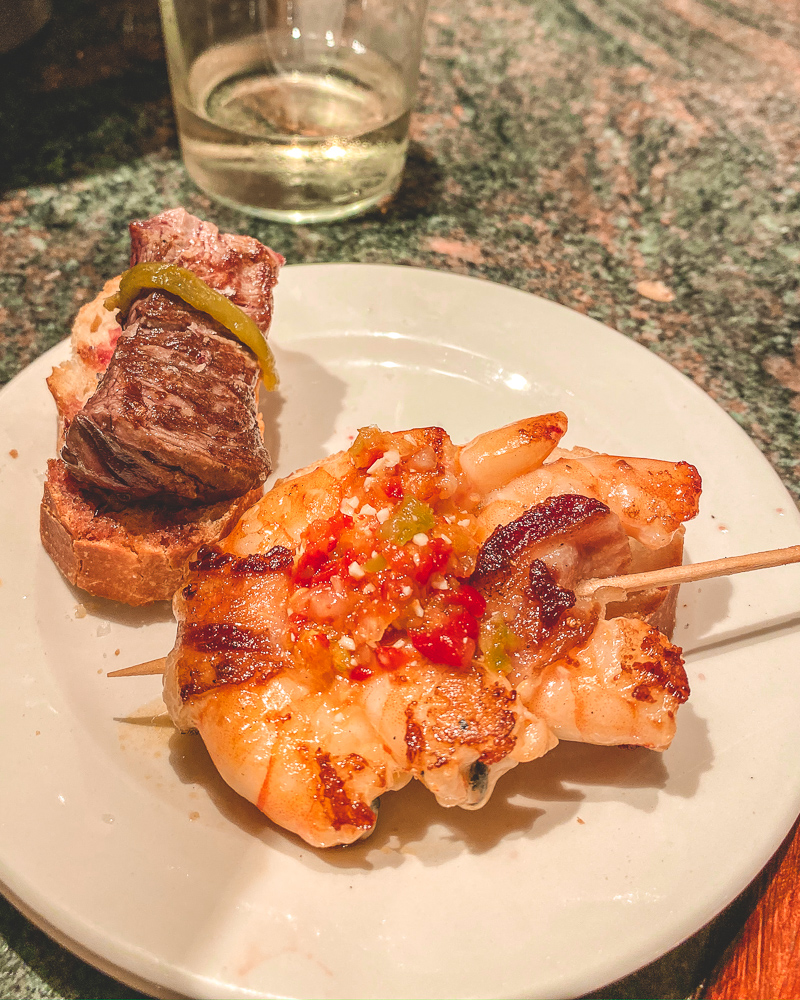 Postre Pintxos: San Sebastián's Best Desserts
La Viña
Location: 31 de Agosto Kalea, 3
Closed on Mondays. Tuesdays-Sundays 11 AM–4 PM, 7:30–11:30 PM.
There's always room for dessert, right? If you've still got some room left, DO NOT pass up La Viña!
Famous for its creamy crustless cheesecake with a crunchy caramelized topping, this place gets packed nightly. But with plenty of cheesecake ready to serve, you won't have to wait long. Each "ración" comes with two slices of cake, which really is plenty to share if you're feeling generous. For cheesecake enthusiasts like me, I recommend one ración per person, or trust me, you'll end up going back to order more. La Vina's light fluffy cheesecake recipe is truly one-of-a-kind!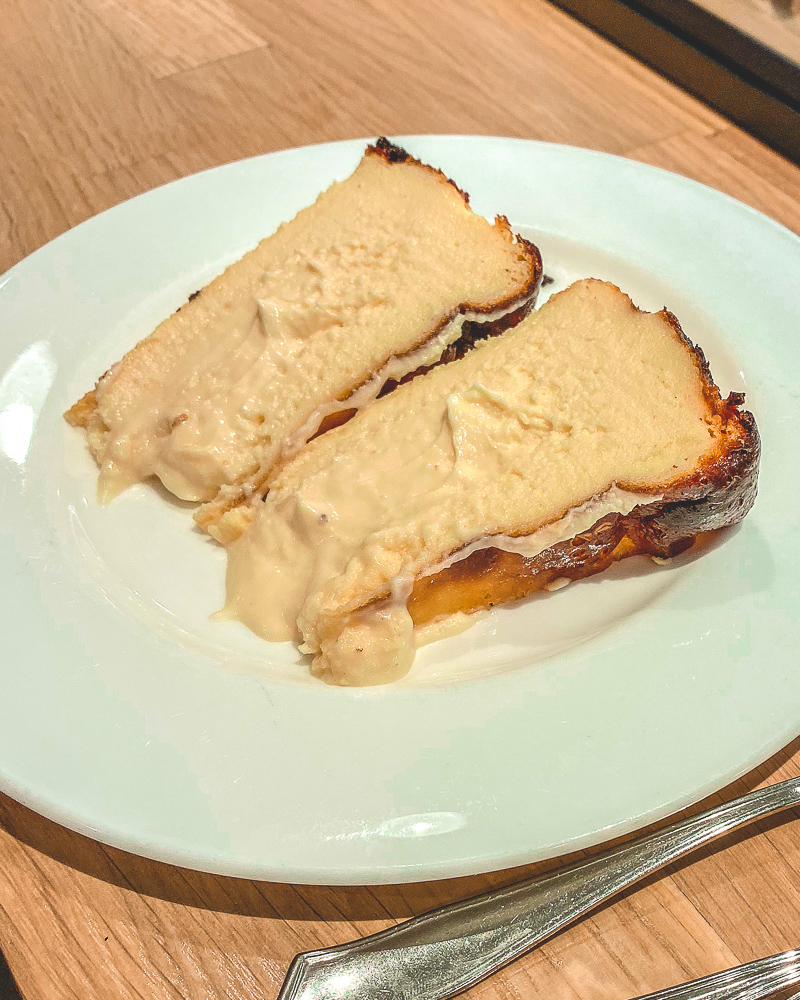 Wines to pair with your pintxos in San Sebastián
Txakoli is the slightly sparkling white wine famous of the Basque Country. Order a glass at any bar and watch the bartender aerate your beverage by pouring 2 feet above your glass.
Rueda- a dry white Spanish wine.
Crianza Roja- a famous red wine from the Rioja wine region of Spain.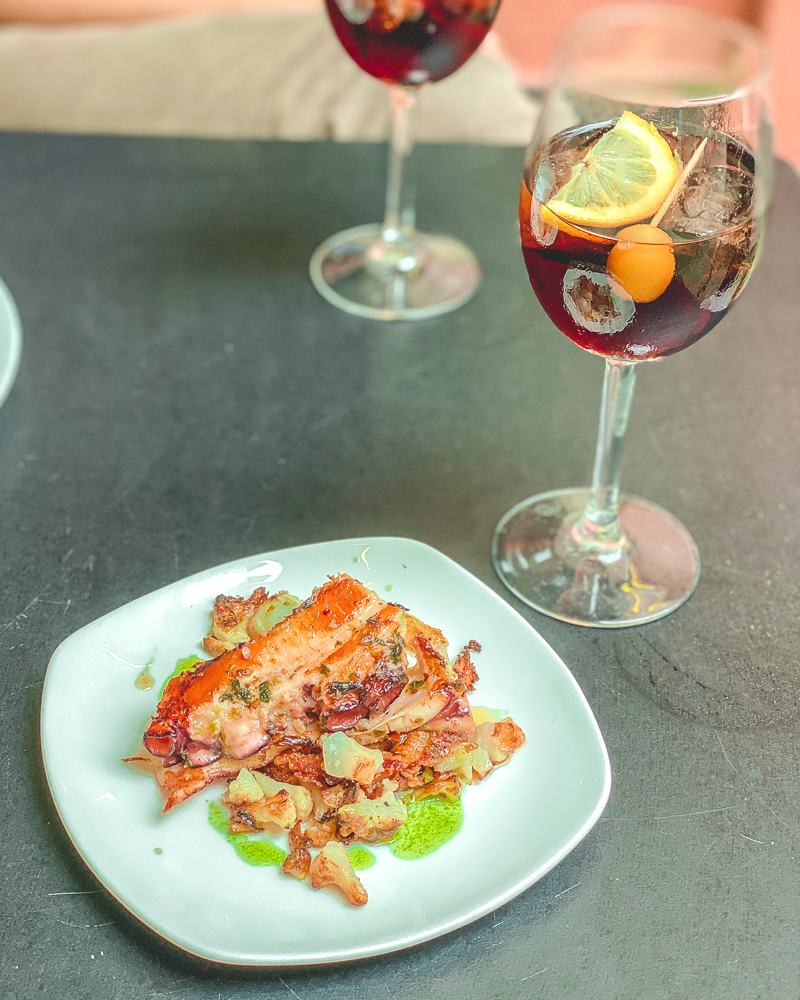 Want an expert along for your San Sebastian Pintxo's Tour?
If you don't want to go at it alone, or would simply prefer to pick the brain of an expert local foodie along the way, try out Devour Spain's incredible pintxos tours in San Sebastian. I've been on a few food tours with them around Spain myself, and I even used to intern for them! I couldn't recommend them enough! Here are the tours Devour offers in San Sebastián:
And if you want to learn how to whip up your very own Basque-style pintxo's at home, check out Devour's Online Pintxo Cooking Class.
Other awesome bars & restaurants for San Sebastián pintxos
Bar Nestor– Known for their Spanish tortilla de patatas.
Juantxo Taberna– another place known for their tortilla, and a great place to grab a Spanish-style sandwich to go before heading to the beach
A Fuego Negro – known as one of the more modern and innovative pintxos stops around San Sebastian. Try their Mini Kobe Burger
La Cepa– A great place to order Spanish jamón [ham] and steak
Bar Sport– A lively bar with a colorful array of pintxos. I love their foie gras and crab (txangurro)
Galparsoro. This little bakery is a MUST go. Order a txokoki This chocolate-filled flakey pastry is one of the best I've ever had! **Note: only open during the day until 7:30 PM and is closed from 2-4:30 PM daily.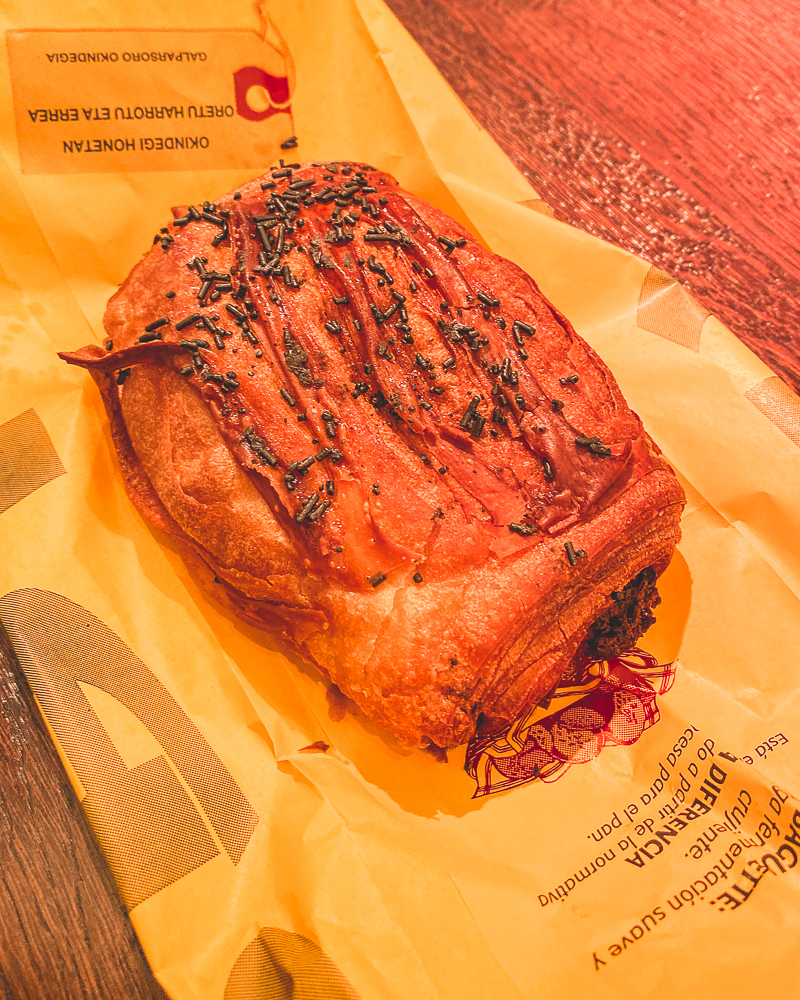 Enjoy & happy txikiteo!!
Liked this post? Be sure to PIN IT and share!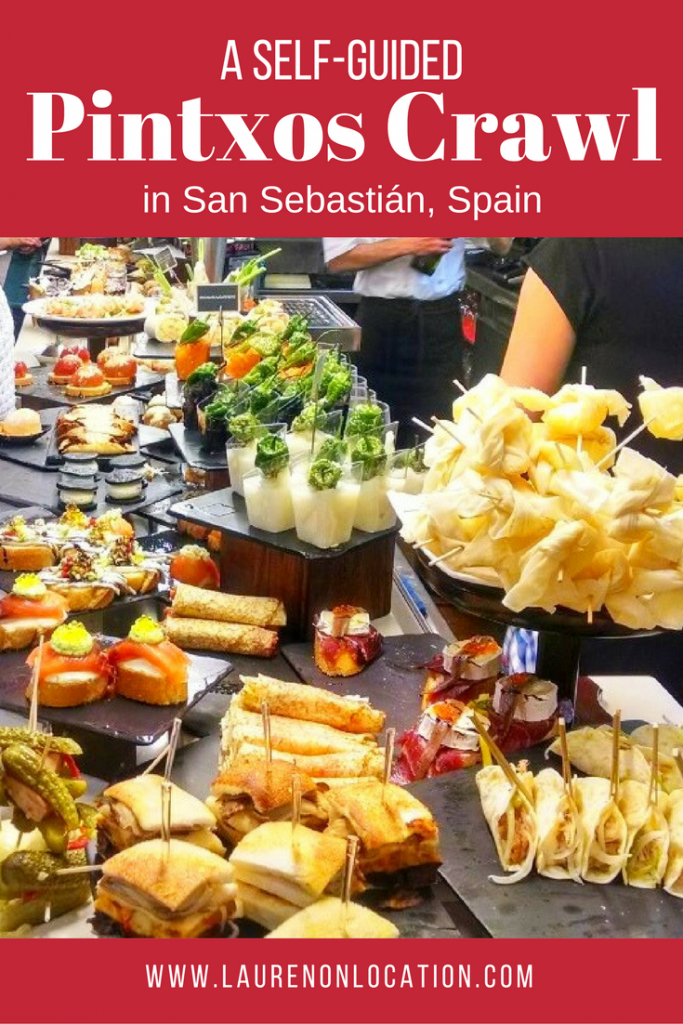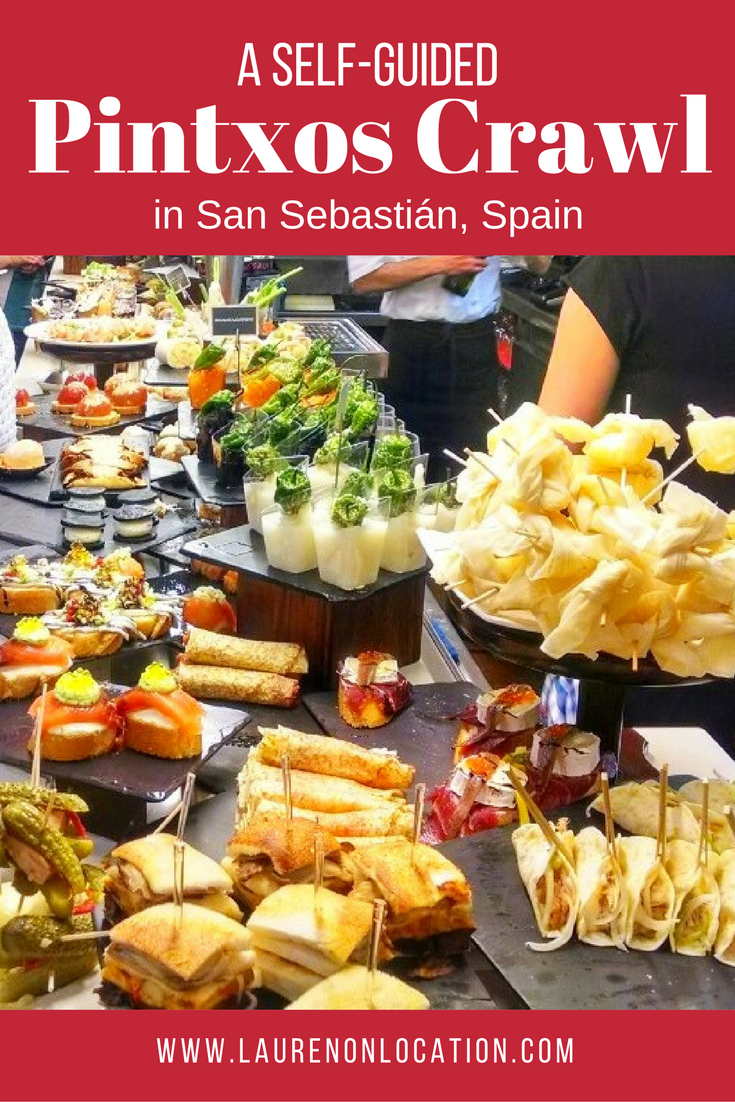 Have you ever been to San Sebastián? Where is your favorite "foodie destination?" I'd love to hear from you in the comments below!