Affiliate links and ads may be sprinkled throughout the free content you see below. If you purchase from one of these links I may receive a small commission, at no extra cost to you, but helping me cover the costs of Lauren on Location. Please see my
full disclosure policy.
As you may already know, I recently did a Birthright trip to Israel! It was ah-maz-ing. The Birthright trip was a nice intro to the country, but I definitely would like to spend some more time there. I know I'll be going back sooner rather than later. And so, when Jacob, who lived in Israel for several months, reached out with an idea for a guest post about things to do in Haifa, Israel, I jumped at the offer.
I didn't make it to Haifa while touring Israel, but Jacob makes Israel's third largest city seem like a dream. It's now fully on my radar and on my list of sites to visit the next time I make it over there!
Here's Jacob!
______________________________
7 Best Things to do in Haifa
Israel is easily the best country I've visited — the weather, people, food, cities, landscape, environment and history are unrivalled anywhere else in the world.

Whether you're exploring the ancient city of Jerusalem, climbing Mount Masada, floating on the Dead Sea or partying in one of Tel Aviv's many nightclubs along the beach, you'll never run out of things to do. For such a small country, Israel has a lot to offer!
There are beautiful Mediterranean beaches along the coast, tall mountains, forests, deserts, incredible wildlife and plenty of happening cities. In fact, I called one of those cities home for a month, Haifa!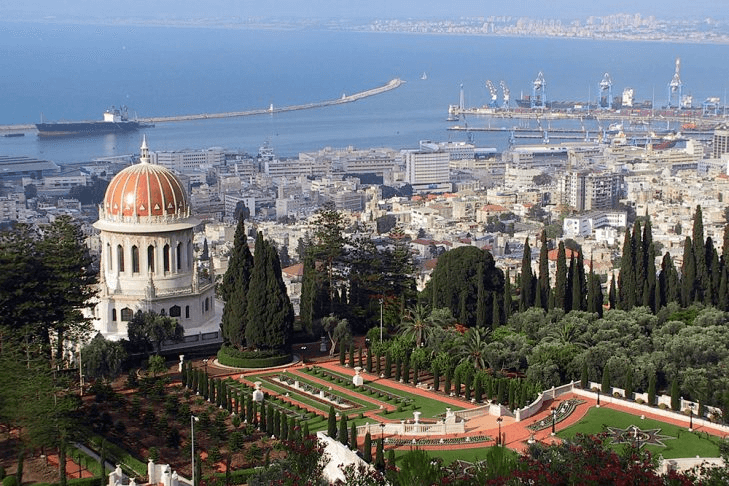 The city of Haifa sits mostly atop Mount Carmel, a beautiful mountain range in the north of Israel near the border of Lebanon. Situated along the Mediterranean sea and a short train ride away from the ancient city of Akko, Haifa is one of the most culturally diverse cities in all of Israel. 
In this post, we're going to talk about some of my favorite things to do in Haifa after spending a month living in the city's downtown. 
#1 Visit the Bahá'í Gardens 
The Bahá'í Gardens (bahai gardens) are almost as famous as they are beautiful. This world heritage site is carved into the side of Mount Carmel, and is one of the most magnificent works of art you'll ever lay eyes on. 
The Bahá'í religion is relatively new — they're peaceful people who believe we should all get along, regardless of our race, religion, gender, etc. 
Their garden terraces are maintained year round, and are around the Shrine of the Báb (founder of the Báb faith, forerunner of the Bahá'í fath) is buried there. 
It's a beautiful shrine that overlooks the Mediterranean Sea. If you can manage to walk up the seemingly endless stairs, you'll enjoy a breathtaking view of the gardens, city, and sea below. 
If you like beautiful views (who doesn't) incredible landscaping and brilliant architecture, you'll definitely enjoy Haifa's Bahá'í gardens. They're open from 09:00 to 17:00 every day, but the shrine closes at 12:00 noon. You can walk through the gardens on your own, or go on a free guided tour. More information about the tours is also on their website. 
📍Location: Yefe Nof St 61, Haifa, Israel
#2 Hit The Beach
Haifa is mostly built on a mountain, but the lower downtown area near the German colony is right along the coast.
There are buses that'll take you up and down the coast of Haifa for pretty cheap, not to mention a train with several stops in the city. One of them stops right at Carmel beach, the biggest beach in Haifa.
The long boardwalk style walkway parallel to the coast is lined with shops, restaurants, palm trees, and workout parks. Music is common, as are people dancing or playing an instrument. Don't get me wrong, the beaches in Tel Aviv are also spectacular, but something about Carmel beach in Haifa really blew me away.
Haifa also has a bunch of smaller beaches along the coast, like Bat Galim beach near the Port of Haifa. It's in a small Russian neighborhood, so if you prefer quiet and an escape away from all the action, then this is the beach for you. 
Bat Galim beach was much closer to my place in Haifa, so I frequented it often. It still had a few ice cream shops nearby, as well as an awesome abandoned building which we'll talk about down below. 
📍Location: Carmel Beach
#3 Buy Fruit from Haifa's Local Markets
It is known that Israel has the best food in the world — not just Israeli food, all of the food. 
A lot of the ingredients used in American cooking are highly processed, genetically modified, and either imported or shipped across the country. On the other hand, Israeli food is made with fresh ingredients grown no more than an hour away (because Israel is tiny).
It's no secret that better ingredients make better food! 😬
Don't get me wrong, I love eating hummus and tahini, but you can also get a great burger in Tel Aviv or have terrific pizza if that suits your fancy. 
What I loved about Haifa, however, were the local street food markets throughout the city. Talpiot Market was one of my favorites, and is always full of fresh local fruit grown nearby. You'll never bite into a juicier piece of fruit anywhere else! 
📍Talpiot Market Location: Sirkin St 38, Haifa, Israel
#4 Water Sports
When looking for things to do in Haifa a friend of mine offered to take me out for a ride on his Saba 50 Catamaran!! If you're not as fortunate as me to have a friend with a boat, there are also plenty of companies that'll take you out for a day!
Haifa is a huge water sport city. Every morning I saw people on surfboards paddling out into the sea to ride the waves. And there is some great surfing along the coast.
There are also surf clubs you can join if you're experienced, and lessons available for beginners. In addition, plenty of people ride the waves on paddleboards, which I found beginner friendly.
You can also find a bunch of people parasailing, paramotoring, and boating on any given day, especially in the summertime.
All in all, Haifa has a bunch of water sports to try for veterans and beginners alike.
📍Location: David Elazar St 2
#5 Eat Hummus, Tahini and Falafel!
Alright, fine, eating hummus, tahini and falafel isn't something exclusive to Haifa, but that doesn't mean you shouldn't indulge!

The cool thing about Haifa is that it's a lot smaller than Tel Aviv, so there are more local family owned restaurants. I went to an Arab family's restaurant and ordered a bowl of hummus with pita and it was delicious. 
I frequented a delicious falafel restaurant called HaZkenim Falafel — hands down the best falafel I've ever had.
It's a family restaurant, and a young boy was working there, probably around 14 years old. We were talking about the American rappers he liked. Then his grandmother started screaming at him. I thought he was in trouble — but after asking, he told me she said "did you watch the soccer game last night?" 😂
Important note: People from the middle east speaking both Hebrew and Arabic tend to seem like they're fighting and yelling all of the time, even when they're not. 
Either way, the hummus in Israel slaps, and you can't go wrong with the Tahini either. 
📍Location: HaZkenim Falafel, Wadi St 18, Haifa, Israel
#6 Visit a Local Pub
If you love to party, Tel Aviv is definitely the place to be in Israel, where bars, pubs, and nightclubs are packed full every night, even during the week. 
On the other hand, Haifa is a bit more relaxed — there's not much going on during the week, but there are a lot of fun places to go on the weekend. 
When looking for things to do in Haifa, it was common that I'd visit the local pubs with my friends in the downtown area. Eli's Pub was my favorite – there was always live music and a great atmosphere, not to mention gorgeous bartenders (sorry, I'm only human).
Once I was a bit more adventurous and went to a nightclub, where I danced the night away with some friendly and also somewhat intoxicated strangers!
Don't expect to rave all night, every night, but that's not to say there isn't a good nightlife scene in Haifa if you know where (and when) to look. 
📍Eli's Pub Location: Derekh Yafo 35, Haifa, Israel
#7 Watch The Sunset over the water
There's an abandoned building in Haifa near Bat Galim beach with a tremendous view of the ocean, and it holds a special place in my heart. 
This one's a bit dodgy, and to be quite honest I'm not sure about the legality of it. As far as I know, climbing up an old ladder into an abandoned building probably isn't the best idea. [If you chose to do this, do so at your own risk. Lauren on Location is not responsible for anything that may happen during execution of these activities, and only serves to be a source of information. All decisions made to pursue activities are your own.]
My friends and I made this a habit, and did it almost every evening to watch the sunset with a few beers, and it was probably my favorite thing to do. Nothing is better than looking at the jaw dropping beauty of the water with the sun going down, alongside your good friends. Couple that sensory overload with the wind in your face and a slight buzz. It doesn't get better than that!
Seriously though, this one is a risky thing to do in Hafia, and I wouldn't necessarily recommend it. BUT there are other places to watch the sunset as well. Try St. John Chapel, the Louis Promenade near the Dan Carmel, or one of these options listed by Time Out Israel.
📍 Location: Bat Galim Beach, Haifa
#8 Go Cliff Jumping in Acre
Yet another risking thing to do in Haifa… what can I say?!
Acre (sounds like Akko) is an ancient city just north of Haifa. If you're already in the area, you should definitely check it out. The wall you see in the picture is great for cliff jumping. In the middle of the picture you'll see stone blocks at the end of the wall. That's where you climb up after hurling yourself off the wall and falling 13 meters into the water. 😬

The ancient walls defended the city from several attempted invasions throughout history, including an attempt by the French general Napoleon during his Egypt and Syria campaign. 
You can find ancient ruins of Templar churches, and an awesome Arab market full of, well, a bunch of random crap and delicious food. Worth checking out! 
For me, the highlight of my trip to Acre was jumping off the 13 meter ancient city walls into the water below. It's pretty dangerous and only safe in a certain spot. I went twice during the summer, and both times the locals were jumping off and doing crazy backflips. [Again, if you chose to do this, do so at your own risk. Lauren on Location is not responsible for any actions taken after reading this informative guide.]
I played it safe and jumped feet first — or at least, as safe as I could while cliff jumping. If you're an adrenaline junky and like a rush, this may be your type of activity.
Some say you don't need travel insurance, especially in Israel. But if you're going to partake risky activities while traveling, I'd recommend you have a good policy! 
📍Location: Old Acre City Walls
#9 Haifa Cable Car and Stella Maris Carmelite Monastery
Haifa has some pretty cool cable cars that'll take you up the hill to Stella Maris Monastery, another popular tourist attraction. The cable cars are the easiest and fastest way up, unless you want to hike up a pretty big hill. 
The Monastery is beautiful, both inside and out. Not only is the building's architecture impressive to say the least, but the view from the mountain is terrific. 
The reason why I didn't do all of the "touristy" things in Haifa is because I was living there as a digital nomad. When you live somewhere for a month or two at a time, I've found that you adopt a "I'll do it tomorrow" attitude about sightseeing. Before you know it, it's time to move on to the next location. 
If you've only got a short stay in Haifa, I'd definitely prioritize some of the more touristy attractions, but be sure to get in some local activities from this list as well!
📍Location: Stella Maris Rd 100, Haifa, Israel
Additional Things to do in Haifa, Israel:
If you're looking for day tours outside of Haifa, or nature-friendly things to do in Haifa, check out Carmel Mountain National Park! It's Israel's largest national park, containing over 10K hectares of pine, eucalyptus, and cypress forest!! 
If you like art or museums, be sure to check out Haifa's Museum of Art, located in Wadi Nisnas downtown in a historic building built back in the 1930s.
And if you're headed to Tel Aviv sometime on your trip, be sure to check out Lauren's post about A Cooking Class in Tel Aviv with an Israeli Local!
Have you ever been to Israel? After reading this post, would you like to visit Haifa?? I'd love to hear from you in the comments below ⬇️⬇️
Liked this post about things to do in Haifa? Pin it and save it for later!